The team at Big Russ Premium Beer Cheese has selected a few game-time essential recipes. We have everything from Beer Cheese Nachos, to our famous Beer Cheese Potato Skins. We are currently putting together a community-based recipe forum and will be encouraging the talents of our customers and fans to deliver their delicious Big Russ creations. So feel free to corn-tribute!
Our in-house chefs have created a series of culinary-cheesy-genius and want to share it with all of you.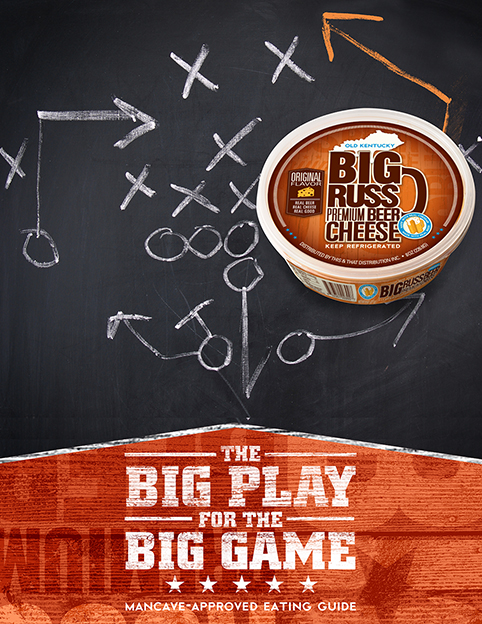 DOWNLOAD OUR PARTY PLAYBOOK


10 MINUTE TOTAL TIME
WHAT YOU'LL NEED
5 each Jalapeño Peppers
10 oz Big Russ Premium Beer Cheese
1¼ cup Wiesenberger Fish Batter
¾ cup Water
1 ½ cup Flour
4 oz Cream Cheese
PROCEDURE
Heat a deep fryer to 350 degrees.  Remove Stems from the Jalapenos and slice in half. Remove seeds and rims from the inside of peppers.  Combine cream cheese and Big Russ Premium Beer Cheese, stir to combine well. Fill the pepper halves with 1oz of Big Russ Premium Beer Cheese and cream cheese mixture each. Roll the stuffed peppers in flour. Mix Water and Wiesenberger Fish batter and blend until smooth and thick. Dip flour covered stuffed jalapenos in the batter and drop into the fryer. Fry for 2 minutes or until golden brown. Serve with sauce.
SERVING SAUCE OPTIONS
Horseradish Mayonnaise
Ranch Dressing
Cocktail Sauce

15 MINUTE TOTAL TIME
WHAT YOU'LL NEED
8oz Ground Beef 80/20
2oz tablespoons of dark beer
1 set Burger Set (Lettuce Leaf, Tomato Slice, Onion Ring)
1 each Burger Bun
PROCEDURE
Grill the 8oz beef patty to desired doneness on an oiled griddle or charbroil. Meanwhile toast the Burger bun with liquid butter and place on serving plate. Place the burger set on the top bun. Just before removing the beef patty place 2oz of Big Russ Premium Beer Cheese on top of the patty and allow the cheese to melt. Place the patty on the bottom bun and serve with a side.
TOPPING OPTIONS
Beer Cheese Jalapeno Burger – add Jalapenos and Chipotle Mayonnaise
Beer Cheese Bacon Burger – add two strips of Fresh Cooked Bacon
Beer Cheese Steak Burger – add A1 Steak Sauce